The 15th China international Machine Tool & Tools Exhibition
Views:8 Author:Site Editor Publish Time: 2020-02-19 Origin:Site

The 15th China international Machine Tool & Tools Exhibition (www.cimes.net.cn) will be held in New International Exhibition Center, Beijing, China during May 18~22, 2020.
TSD will show one set of WS67K-100/3200 Servo pump CNC press brake with Robot.
Welcome you visit us.
WS67K-100/3200 Servo pump CNC press brake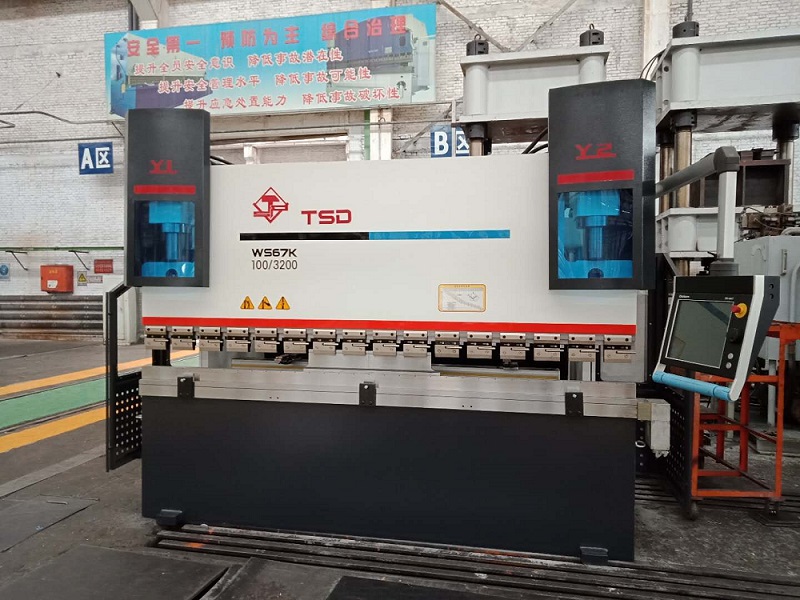 Features
Controlled by servo-pump with power saving and high precision
High efficiency, and over 30~50% of power saving than traditional press brake
Servo motor controls two-way quantitative oil pump with higher synchronous control precision
Mechanical crowning on table with better workpiece making precision
2 axis of aluminlum alloy back gauge with high precision
Ram with rolling guide rail characterized by small damp and quick response.
Fully automatic robot is available
Smooth operation, flexible control, no jamming, no oil leakage and abnormal noise.
Beautiful appearance, Designing innovation, and simpleoperation
Main technical data
| | | |
| --- | --- | --- |
| Name | Value | Unit |
| Nominal pressure | 1000 | kN |
| Length of working table | 3200 | mm |
| Distance between uprights | 2700 | mm |
| Throat depth | 400 | mm |
| Max.opening height | 470 | mm |
| Ram stroke | 200 | mm |
| Approaching speed | 150 | mm/s |
| Working speed | 12 | mm/s |
| Returning speed | 150 | mm/s |
| Main motor power | 2×3 | kW |
| CNC system | DA66T | |
| Quantity of axis | Y1、Y2、X、R、V | axis |
| Capacity of oil tank | 128 | l |
| Rated pressure | 28 | Mpa |
| Positioning accuracy of ram(Y1,Y2 axis) | ±0.02 | ㎜ |
| Repositioning accuracy of ram(Y1,Y2 axis) | 0.01 | ㎜ |
| Positioning accuracy of back gauge(X axis) | ±0.05 | ㎜ |
| Repositioning accuracy of back gauge(X axis) | 0.03 | ㎜ |
| Positioning accuracy of back gauge(R axis) | ±0.10 | ㎜ |
| Repositioning accuracy of back gauge(R axis) | 0.05 | ㎜ |
| Overall dim.(L×W×H) | 3800×1685×2760 | ㎜ |
| Weight | 8200 | kg |
ER80 Robot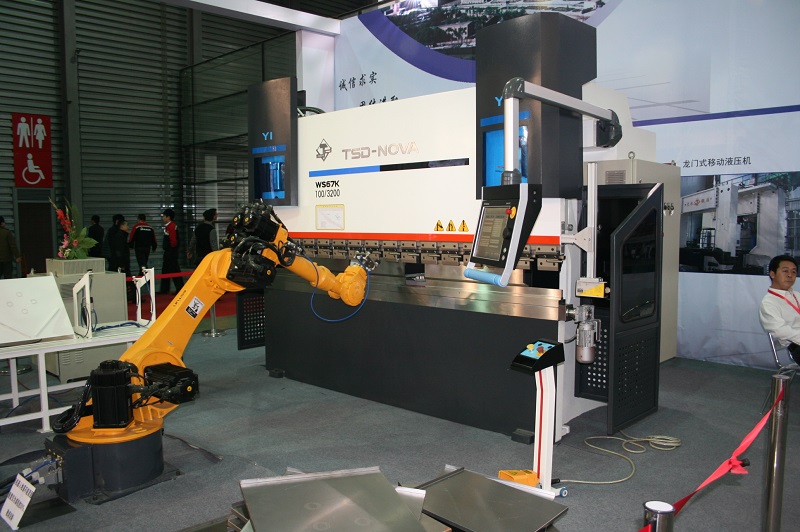 Main technical data
Model

ER80

Type

Multi-axis

Freedom of movement

6







Max.speed




J1 axis

110°/ sec

J2 axis

105°/ sec

J3 axis

130°/ sec

J4 axis

215°/ sec

J5 axis

160°/ sec

J6 axis

205°/ sec




Working range

J1 axis

±180°

J2 axis

-67°~ +150°

J3 axis

-190°~+66°

J4 axis

±170°




J5 axis

±130°




J6 axis

±360°

Max.working radius

2565mm

Weight of robot

740 kg

Max.loading

80 kg

Repositioning accuracy

±0.2mm

Protection grade

IP65

Motor

11.5kW